Skal man skrive en programmeringsbog til kvinder for at få dem til tasterne?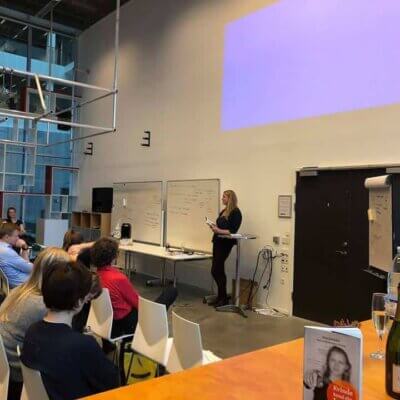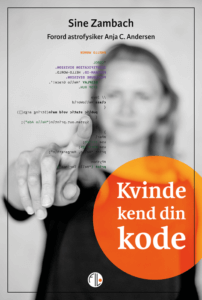 Det har Sine Zambach i hvert fald forsøgt med sin nye bog, Kvinde kend din kode.
På Ada Lovelace-dag, den anden tirsdag i oktober (i år 9. oktober), udkom bogen med en reception og et miniseminar på IT-universitetet. DigiPippi var naturligvis med og nød både talere og cremant.
Talerne
The first speaker was the ITU Communications Camilla Rosengaard who shot the seminar started to talk about their initiatives to get more women into their programs. They work with among other things to keep short boot camps before the semester begins, to get an inclusive study and outreach to high schools.
Nummer to taler til receptionen var FemTech.dk-projektet på Datalogisk insitut på Københavns Universitet. Her fortalte postdoc Maria Menéndes om deres aktionsforskningprojekt med camps i ferierne, hvor de underviste gymnasiepiger i programmering og teknologi i en uge og samtidig fulgte pigernes rejse. En særlig interessant pointe var at selv de piger der havde en virkeligt sej baggrund med erfaring i programmering, ratede sig selv ret dårligt, når de blev spurgt hvor gode de var.
Det tredje oplæg var cyberfeministerne Maia og Sadhia fra DO:TOPIA, der fortalte om deres aktivistiske tilgang til at få mere diversitet ind i kodning. De holder kodeklubber og "kodelejre" og har haft folk med en næsten fobisk angst for programmering. De tilbyder et safe space med opbakning og støtte. De underviser typisk også i emner med politisk og etisk indhold.
self Zambach
Sidst fortalte Sine Zambach, der til daglig er analytiker på Copenhagen Business School, om bogen. Det startede for sjovt, men føltes siden som en politisk pligt at lave en programmeringsbog for kvinder. Både for dem selv, for IT-industrien, for teamsammenholdet og for at de kan være gode digitale rollemodeller (det kender vi jo lidt til i DigiPippi).
Sine Zambach er for øvrigt selv rollemodel i DigiPippi, og der var ganske mange af vores role models fra DigiPippi med til receptionen.
Med gode faglige taler og tid til bobler – var det rent Eat, drink and embrace coding.
Read more about Sines book here: Kvindekenddinkode.dk and https://filo.systime.dk/index.php?id=171