This is the first day of DigiPippi School of Dagmar School in Ringsted. A class full of fourth grade girls sitting still and staring at today's teacher – Eva Fog from DigiPippi.
Many have previously indicated to their teachers that they are nervous and excited, because it's not everyday that be taken out of their classes on the way.
Today's two teams are composed of the vintage four classes, and contrary to what many of them are used, they are not prepared for what will happen. The boys are sent off on his own adventure, and the next five Thursdays it will continue like that.
The girls are heading into the unknown, and it has the very good of. Not only do they get to know exactly what to do – they also need to do it with technology. Specifically, 3D design and 3D printing. The margin of error is huge, and there is no way to calculate a way through. Gasp.
De er vant til, at kunne forudse hvad de skal lave og på den måde evalurere deres egne chancer for succes eller fiasko. Desværre er denne evne i høj grad med til at spænde ben for pigernes egen udvikling. Derfor er første del af undervisningen startet længe før DigiPippi tropper op i klassen, og fortsætter når DigiPippi tager hjem for sidste gang. I samarbejde med skolens lærere er forløbet tilrettelagt, så den gør brug af den forhåndenværende teknologi og læringsmål.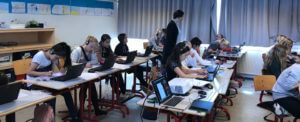 At Dagmar school is greatly handicrafts and design teachers who have left their mark on what should be done. At the same time standing there, like in many other schools, a bunch of 3D printers which were not used enough, and it was therefore an optimal combination for all parties.
Apart from the specific agreements and would have DigiPippi created a training program which culminates in a tangible product. A snow globe.
"It is a really good opportunity to give our girls an extra push into the world of technology and at the same time it is an opportunity for skills development for us teachers", Stine says Solomon, IT knowledgeable teacher at Dagmar School in Ringsted. "When girls are educated DigiPippi'er plan is that they will help to educate the school's other students and teachers in the use of Tinkercad and 3D print. "
Not just a drip
DigiPippi School is not just a single dripping in a large lake of teaching. It is a boost for everyone involved.
Too often purchased consultants into a course and then it is not possible to work with it. DigiPippi School makes both teachers and girls for educators who can then spread it out to the school's other students.
At the same time raised the girls from being talented but passive consumers to be active users. Creators and intermediaries.
For this reason, Dagmar School embarked on to be the first in DigiPippi School project. Vice Principal Martin Kofoed says about participation: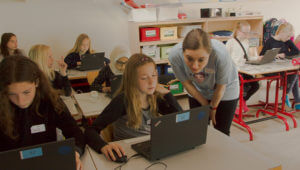 "At Dagmar school we put a lot of our students are digitally generated, to be creative producers, not just consumers in the digital world. DigiPippi project helps to support this, while girls in fourth year in a educational course have a good experience. "
The girls will be following the progress being what DigiPippi work a lot with: role models for others.
Role models play a major role in DigiPippi School project. Besides Eva Fog real teacher comes along the way several of the association's savvy role models. The objective is clear: to show the girls how different role models are and that they are among their own sex.
One of the other issues that DigiPippi School trying to embark on is namely the prejudice that technology is 'boyish'.
A prejudice that has thrived since the mid-1980s and which unfortunately affects today's participants.
Not just for boys
"It's funny because only girls - and things like that tend most to be for boys", appears in unison from Marie, Philippa and Viktoria from 4C. A statement that a questionnaire teams completed the first day backs.
On the question 'Do you think you can find out what is to happen today' responded only 38% And, While the remaining 62% corresponded No or Do not know.
Ringsted Municipality has chosen to sponsor the project. The municipality's two development consultants for IT and learning environments, Rune Dziadecki and Rikke Falkenberg look forward to working with DigiPippi. Now and in the future.
"It's great to see the girls play with technology. Clearly, they quickly discover that it is for girls. While the girls get a lot of knowledge about 3D printers, the project helps to strengthen teachers' understanding of technology and digital competences. We see the project as a good project for Dagmar School and Ringsted Municipality. We look forward to working closely with DigiPippi in the future. "
DigiPippi skole – why only girls?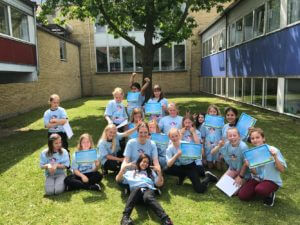 The reason for DigiPippi School found in the association, which gave its name to the project - girl Technology Club and the Association DigiPippi.
Based on the chairwoman and founder Eva Fogs vision a world where there is a more equitable distribution of both sexes, in both the use of education and jobs in technology, was Association formed in September 2015. A vision which, unfortunately, is far from true.
"I saw how wise and otherwise motivated girls left the technology for the boys. Not because they did not want to use it. They let themselves greatly push to the side of the boys' enthusiasm, uncertainty in their own abilities and courage to fail. "
By having the girls for himself there more room to 'fail safe', and through fellowship among likeminded takes place it squarely on their terms. The girls will have time to get started.
Once the girls get started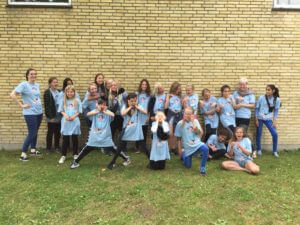 In DigiPippi they used to, that there is a 'run-in period', which can range from 5 minutes to a half hour. The uncertainty of whether they now say something wrong, sounds stupid or others get a bad impression of them must be overcome before learning and expression may occur.
In the 4th class at school Dagmar shows the prior uncertainty also during the first day. Many of the girls stop at the beginning itself and will continue only after being given individual instructions. Instructions that otherwise just gone through the plenum in an easy and understandable language, supported by a video tutorial.
With the help of two of the school teachers and the two role models from DigiPippi helped the girls gently but consistently on.
"The girls were curious and excited," says role model Katrina Løth on the first day of action with the group quickly paid off.
"Here I saw how the girls quickly caught the program and how it tingled with their fingers to be able to design itself."
Initially the DigiPippi School rounded d. June 15, where the girls receive diplomas and t-shirts in a celebration of their good work. Then they graduated as DigiPippi girls, and can go out and teach others what they have learned.
Diplomet er både et bevis til pigerne selv på, at de rent faktisk godt kan, og at DigiPippi mener, at pigerne fremadrettet kan repræsentere andre som værdige rollemodeller. Og skulle nogen af dem ikke have lavet produktet færdigt? Pyt. Det hele drejer sig om processen, opbygningen af selvtilliden og boost af viden om at teknologi IKKE kun er for drenge.
Related links
Press release on DigiPippi School cooperation with Ringsted
Article about the project in Sjællandske Media
Article in Ringsted Local Sheet