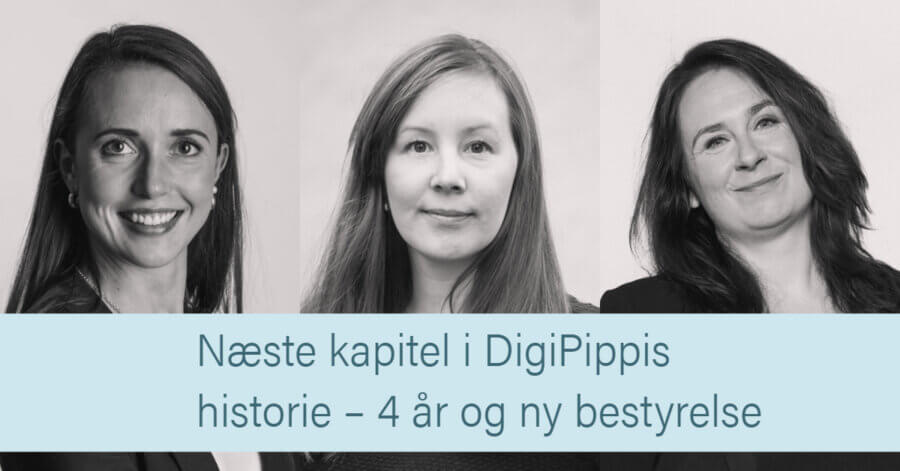 When DigiPippi d. 29.8 Annual General Meeting, it was both a beginning and an end.
With the many good changes that have occurred the past six years, the association has entered a new chapter. We therefore decided several of the previous year's board members to resign, and let new blood come. Therefore, we say thank you to Anette Tvedergaard Madsen, Freyja Finnsdóttir, Mariane Ingeborg, Cathrine Fallesen and Line Clemmensen for between 1 and 3 years of participation in DigiPippis board. All proceeds as general volunteer role models, and we are very happy.
New forces of good have announced his arrival and we say welcome Helene Aagaard, Aviaja Borup Lynggaard and Laura. The pins, together with Eva Fog, Mia Meldgaard, Rikke Nørdum Sonne and Marie-Louise Højlund Rasmussen wear the association into the fourth year of life.
We celebrate DigiPippi at a reception d. 14/09 from 14 to 16, where friends and partners are welcome. Registration is done via a Facebook page - direct link https://www.facebook.com/events/2959653434062503/
Want to know more about the years 2018-2019? then take chairperson's report here.
Helene Aagaard, diversity consultant and co-founder of GoGetty
"DigiPippi is the root of all good when we want to ensure more diversity in tech and disseminate understanding of IT and technology for very young girls. If I, as a director of DigiPippi may be to raise awareness and importance of DigiPippis work to even more young girls as well as the public in general, I am fully convinced that I, along with Eva Fog and many other forces of good in DigiPippi helps to ensure more diversity in tech and society in general. "
Aviaja Borup Lynggard holds CXD – Child Experience Design, creator of Hopspots and role model in DigiPippi since the beginning
"I have gone into the board to promote interest in technology among girls, so we can get more girls and women to influence the development of future technologies. We need diversity in this work and the space DigiPippi creates, gives courage and appetite to work with technology. I will contribute my knowledge in fund search, entrepreneurship and research, as well as building a bridge from Jutland to Zealand, so DigiPippi will be strengthened as a nationwide organization "
Laura Erdam's Enterprise Account Manager – Red Hat
"I am telling diversity in the labor market, which already start our children are in school. One of my goals is to get more women in tech industry, where they are clearly underrepresented. Girls need support to test the technology in a safe environment, find out how "cool" it is and have the opportunity to choose Tech as future subjects if they wish. I myself am a mother of two girls and would like to be a role model for them with the message that diversity change created with small steps and support for each other. "