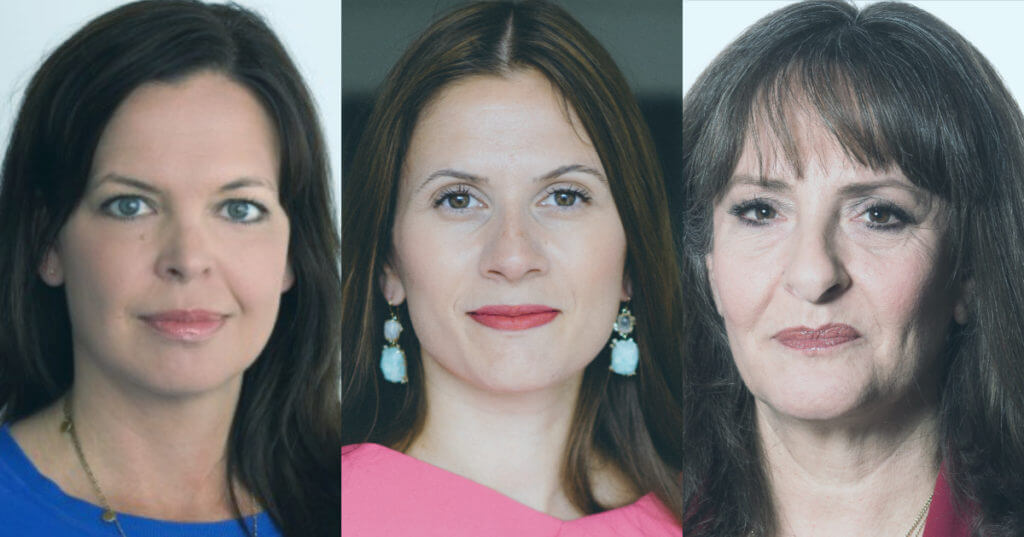 DigiPippi get three female executives as ambassadors and becomes nationwide
Association DigiPippi taking a big step forward in 2019 when the association shall appoint three prominent examples ambassadors.
Simultaneously reminder Association now outside Copenhagen with clubs in Aarhus and Svendborg.
Meet DigiPippis first three Ambassadors:
- Anja Monrad, Senior Vice President of Central and Eastern Europe in DELL EMC
- Sahra-Josephine Hjorth, co-founder i CanopyLab, samt
- Camilla Ley Valentin, co-founder og COO i Queue-IT.
"If girls have to capture the interest of technology, it is crucial that they have some female role models to look up to. The whole basic idea behind DigiPippi, "says Eva Fog, who is chairwoman and who founded the association in 2015.
Eva Fog discovered after years of working with technology that girls' apparent lack of interest in technology disappears when they were presented for the technology in the company of a female role model, and even more so when there are no boys were. As three four-class girls said at a DigiPippi schooling: "It's funny, because only girls - and things like that tend to be mostly for boys".
Therefore, it is also a natural step up the ladder that DigiPippi now appoints three IT managers who DigiPippi Ambassadors, whose work in the technology world is an inspiration to others. The first three new ambassadors have variously found their way to the top of the IT industry, where they represent the minority of women in senior positions.
Anja Monrad: We need balance
"[..] Det er afgørende for vores alles samfund at vi få skabt en meget bedre balance mellem kønnene indenfor teknologibranchen."
Anja Monrad has for over 16 years helped to shape DELL EMC to it, the company is today. Under her leadership, DELL taken many initiatives to make the company inclusive and versatile. Especially gender equality is her heart.
"It is a great honor to be one of DigiPippi's first ambassadors, and I sincerely hope that I thus can help to create focus on the wonderful work that all the volunteers in DigiPippi doing.
Their work is super important as it is essential for us all society that we have created a much better gender balance within the technology industry (and everywhere else for that matter) - and it starts to create interest already in the young women. If we do not get a better diversity, we will partly not days full advantage of all views in the future, but even more important, we risk technology world - and thus the society we all live in - is designed exclusively for men / boys. Therefore, the girls on the field - and here DigiPippi and their inserted indispensable!"
Camilla Ley Valentin: Bride with glass ceiling
"Jeg ønsker at vise kvinder, at det er muligt at være både IT-iværksætter, leder og kvinde."
Camilla Ley Valentin, COO i firmaet Queue-IT, der leverer systemer til at stå i virtuelle køer hos f.eks. SKAT og Billetlugen, har været en synlig og aktiv rollemodel samt talsperson for ligestilling i tech-industrien og iværksætteri gennem mange år.
"Jeg sagde ja til at blive DigiPippi Ambassadør af flere årsager. Synliggørelsen af kvinder i ledelsespositioner i IT-branchen er med til at bryde det glasloft, som kvinder møder når de forsøger at avancere. Jeg ønsker at vise kvinder, at det er muligt at være både IT-iværksætter, leder og kvinde. Både i egen virksomhed men også generelt. Samtidig er jeg mor til to døtre, som gerne skulle vokse op og have mulighed for at blive hvad end de ønsker.
DigiPippis work to make technology accessible to girls at eye level, is an effort that makes a difference. There is much talk that something must be done. DigiPippi act and when to process many different types of girls. It is important to show that it does not require that one is male or a special type that could use and create technology."
We are DigiPippi super proud of these super cool women want to rally around our work, and we look forward to a future good cooperation with them.
Sahra-Josephine Hjorth: For future leaders
"DigiPippi working to make STEM subjects accessible and exciting for the next generation of women leaders."
"I'm DigiPippi ambassador because I support the engaging ways DigiPippi method inspires young girls. DigiPippi working to make STEM subjects accessible and exciting for the next generation of women leaders. I would like to help, especially when I had a hard time finding female role models as a child.
If we are to solve the world's biggest problems such as climate change, poverty and lack of access to education, we need to get better at catching minorities and actively incorporating more diverse perspectives in our businesses. DigiPippis work is very important as it can help us get more women in STEM and as leaders of STEM companies. "
DigiPippi moving out of the country
2019 is also the year when DigiPippi through 30 events nationwide and two new clubs in Svendborg and Aarhus intensifies efforts.
In Aarhus effort backed by the University of Aarhus, where the club will be housed while in Svendborg, the local school Byhaveskolen which opens its doors. Both clubs look forward to offering the girls welcome Wednesdays in even weeks, starting in February. The clubs are a natural extension of existing work, and the local enthusiasts look forward to meeting the girls.
For more information about Aarhus can Annemette Nelle Berg contacted at annemette@digipippi.dk or mobile 61301686, and Funen Pauline Fredskilde on pauline@digipippi.dk or mobile 21121808.
About DigiPippi
Association DigiPippi was founded in September 2015 by Eva Fog, self-taught IT geek and Steiner educator, with the support of the international NGO Reach for Change. The target group is mainly girls aged 7-13 years who through events and clubs can get an interest in technology on their terms.

Based on the girls' existing interests inspiring female role models - volunteers - the girls to 'hack' them with technology. Around 1,500 girls of 3 years had contact with DigiPippis offers, besides the many parents, teachers and educators who have participated in different ways.

European Equal Status (EIGE) licensed in 2018 DigiPippis efforts as Best Practice.
https://eige.europa.eu/gender-mainstreaming/good-practices/denmark/digipippi-coolest-girls-club-denmark